The Sopolu Library was the private library of the late Chief Obafemi Awolowo, SAN. GCFR. It is situated within the residential premises of Chief Awolowo, in Ikenne which is about 27 Kilometers from Ago-Iwoye. Sopolu Library was bequeathed to the University by Late Chief elder statesman Obafemi Awolowo. The Library was formally handed over to the University in 1989. find below a copy of the will bequeathing the Sopolu Library to the Olabisi Onabanjo University as found in Obafemi Owolowo's Museum: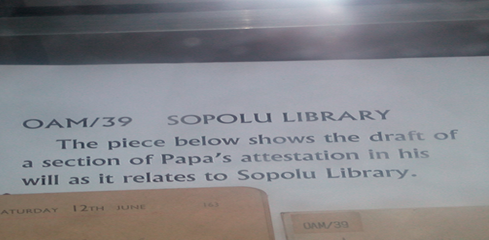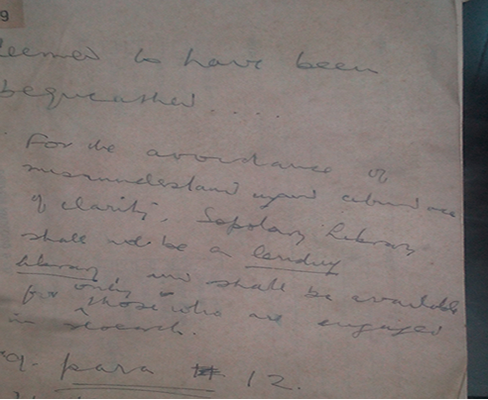 The collection of the library includes scarce basic texts in the Humanities, Social Sciences and Government Publications covering Nigeria and other West African countries; from the pre-independence era to the post-independence period. The Library also stocks volumes of reference materials namely – encyclopedias, dictionaries, yearbooks, almanacs, atlases and general interest texts.
The collection also includes different versions of Holy Bible and the Holy Qu'ran; bound copies of newspapers dating back to the 1940s, and several volumes of photo albums, photographs on the constitutional and political history of Nigeria and the West African Coast. The photographs put together tell stories which no textbook on Nigerian political history could adequately relate.
The Library is staffed by the Olabisi Onabanjo University and it is basically a Research Library; hence it does not provide loan facilities to users. The Library is headed by a Librarian who is responsible to the University Librarian at Ago-Iwoye.