The Multimedia Resource Centre has been developed to support students in their studies. The section stands as a gateway to information and research. To meet this growing need the centre currently strives to adopt the use of state-of-the-art technological innovations, in order to enable the university community realizes its potential in academic excellence for lifelong learning culture. In this light, the Multimedia Resource Centre (MRC) currently runs two centers':
The E-Library Unit and

The Multimedia Audio Visual Unit

THE E-LIBRARY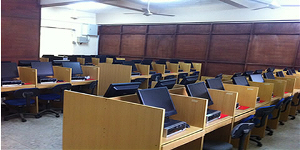 The current E-Library facility owned by the Library was donated by Universal Service Providers Fund (USPF), to support classroom activities, lectures and research. University Library supports the daily operations of an E-Library facility containing about fifty desktop units, fully networked and connected to the internet. Each of the systems has full access to the World Online Library and specialized databases and a good number of Electronic books and journals. With the provisions for the production of hard copies, the centre is supported with printers to enable students and other researchers produce print copies of any research materials accessed or downloaded.
MULTIMEDIA -AUDIO VISUAL CENTRE
This centre is anticipated to hold 30 stand-alone research workstations, packed with audio visual research kits. Audio and video recording kits, as well as specialist software for video editing, noise-removal, sound design, graphics editing, audio digitization and transcription. All workstations are meant to have internet access and the Microsoft office publishing and editing software as well as publishing software from other vendors such as Adobe creative suite.
The Audio Visual Room also serves as a seminar room. Any member of the University Community duly registered with the Library may book for space to utilize the facility for thesis or projects presentation, and other class based presentations. A timetable of bookings will be available on the web portal. If you have a specific request for technical issues, please contact the Multimedia Librarian.
It is recommended that users of the Centre have their own USB memory stick to save work to, as any documents left on the computers will be wiped on a regular basis. Disks must be submitted for screening before being used in any of our facilities. A Cross Section of the Audio Visual Unit of the MRC.